Invisalign is a new system of straightening teeth without the use of conventional braces.
A series of clear plastic aligners are utilized to create tooth movement.
Do you have crooked teeth? Is that a reason why you smile less or have lower confidence?
Having an aesthetically appealing, natural looking smile can improve a person's self-esteem and instills self-confidence. Since your smile is one of the first physical attributes that people see, it can help you make a great first impression.
Unfortunately for many individuals, their smile is hindered by the appearance of their teeth. So rather than risk embarrassment, they choose to hide their smile and hope that no one notices the condition of their teeth.
However, with us as your local cosmetic dentists you never have to worry again about the bite, or the placement of the teeth on the jaw, as we can correct them with ease.
In some cases, it is simply a matter of re-positioning or straightening one's teeth so they are more natural and normal looking. In order to improve their appearance and restore their smile, they often come to Forest Park Dental and have Dr. Eric J. Aubert provide them with a plan to straighten their teeth.
In most cases, the standard option for straightening one's teeth involves being fitted with braces. Fortunately, there is another option known as Invisalign.
Dr. Eric J. Aubert is a Gold Plus provider of Invisalign. Contact us today at (314) 367-7200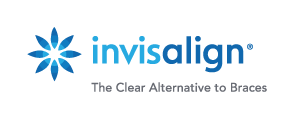 Advantages of
Invisalign Clear Braces
Invisalign clear braces are a newer, more innovative option for straightening your teeth. These reposition and straighten your teeth using a series of custom clear plastic aligner trays that progressively shift your teeth back to their normal position.
Clear braces
---
Invisalign clear braces used in St. Louis are the ideal alternative for adults and teens who are afflicted with minimal to moderate biting issues or exaggerated gaps and spacing between their teeth.
However, their rise in popularity has been attributed to the three (3) primary advantages that they have over their more traditional metal counterparts. This includes:

Flexible and removable – Traditional braces cannot be removed in order to brush and floss after you have been eating and drinking. Conversely, Invisalign aligner trays are flexible, and can easily be removed whenever you want.
Less complex procedure – Straightening your teeth with traditional metal braces is far more tedious than what you will experience with Invisalign clear braces. Each aligner tray is worn for two weeks and then it is replaced with the next one in the series. With each ensuing aligner, your teeth are moved closer to one another.
More comfortable – Invisalign St Louis are made from a colorless, flexible plastic material. Furthermore, they can be custom fitted to any patient regardless of their teeth issues (see next section for correctible dental issues and problems).
Everyone is polite and invested in the well-being of their patients. I have been a patient for over 20 year

Excellent Dentist! Dr. Aubert truly cares about the professionalism in his office. Highly recommend him!

Dr. Aubert is amazing and his staff make you feel right at home.

I am very thankful and happy with my smile. My bridges and crowns are beautiful. Thank you so much Dr. Aubert.
Are You a
Candidate for Invisalign?
It's unfortunate, but Invisalign clear braces are not for everybody. While they work effectively for adults and teenagers, they are not recommended for younger children who still have their first (baby) teeth.
Dr. Eric J. Aubert can fit you with Invisalign provided he has determined that you are a good candidate for them. We can correct the following dental issues and problems here at Forest Park Dental:
crossbite
overbite and underbite
overcrowding
unevenly gapped or spaced teeth
If your dental issues are more serious than those above, there is a good chance that Dr. Eric J. Aubert will recommend the more conventional braces. However, this determination will involve making an appointment so that he can thoroughly examine and evaluate your teeth. If he finds any issues that require immediate attention, he will let you know, and then customize a treatment plan.
In addition to the age factor and the types of issues that can be corrected, there is one other consideration for determining your candidacy for Invisalign clear braces at St. Louis. The first thing we ask every patient who is interested in getting their teeth straightened, and restoring their smile, is "How committed are you to completing the entire Invisalign process?"
Just like with the more conventional braces, your commitment to seeing this through is very important. Dr. Eric J. Aubert would like to demonstrate how this teeth straightening system works to anyone who wants to regain their smile. Please contact Forest Park Dental today. We'll be glad to help you learn more about the easier way to straighten your teeth for a beautiful smile.
---